Terra Masía, from farm to table
Recently discovered by me, Terra Masía is a very well-known farm in Ibiza for its dedication to sustainable agriculture for decades, known as Cas Mallorquin. It has the largest area of organic fruit and agricultural production in Ibiza, 53 hectares, and its aim is to continue in this line of commitment to environmental conservation. One of their objectives is to become a benchmark for agricultural production on the island.
This certified organic farm, one of the largest in Ibiza, is also an oasis of Mediterranean beauty, with its colourful and tasty vegetables that it produces. Marina Morán Jou is the creator of the farm. As descendant of farmers, she carries the land both in her heart and in her veins. Accompanied by her passionate team, she researches different sustainable techniques, such as green manure, pest control, etc., with the aim of becoming a benchmark for sustainable farming.
Besides a wide variety of biodynamic crops of vegetables, fruit, herbs and edible flowers of traditional varieties, the farm, located in Santa Eulalia's hinterland, also produces free-range eggs.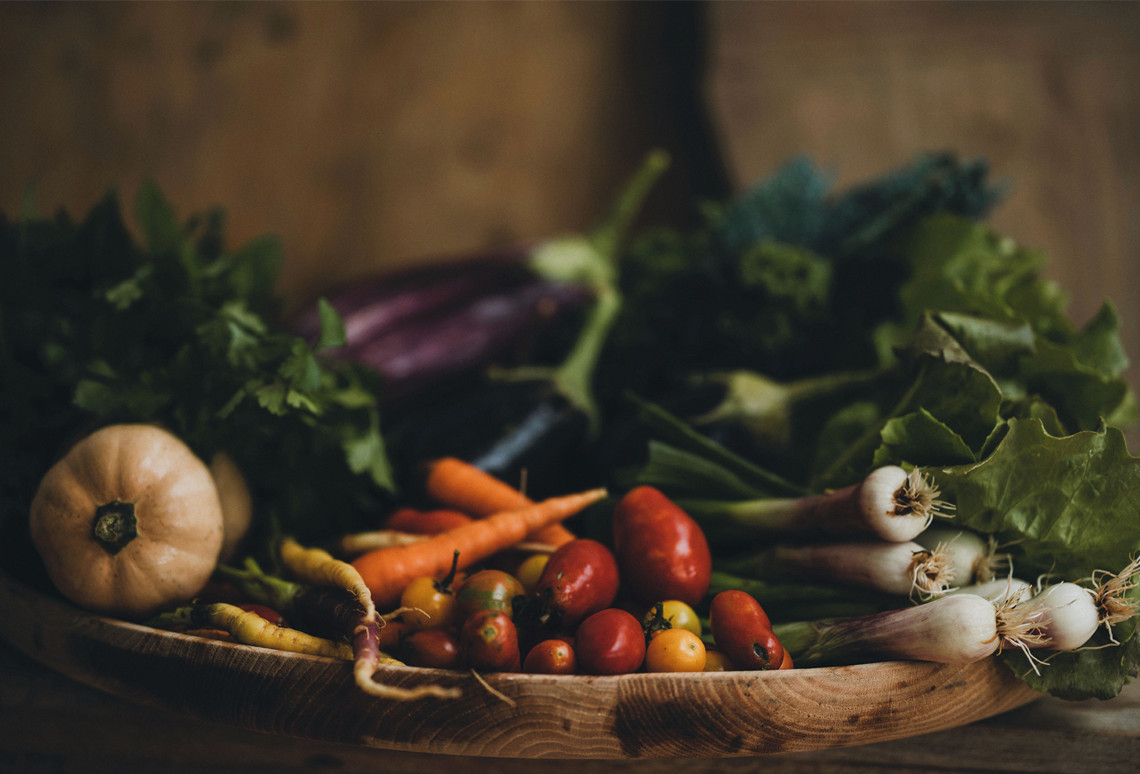 For a direct farm-to-table experience, you can either pick up or receive their organic basket of freshly harvested products, 100% organic and seasonal. You can also enjoy their sunset dinners as they collaborate with the best chefs on the island to create evenings of dining under the starlit fields. Their personalised menu is accompanied by special organic wines and healthy cocktails using the farm's ingredients. It can also be a perfect location for customised celebrations or business lunches.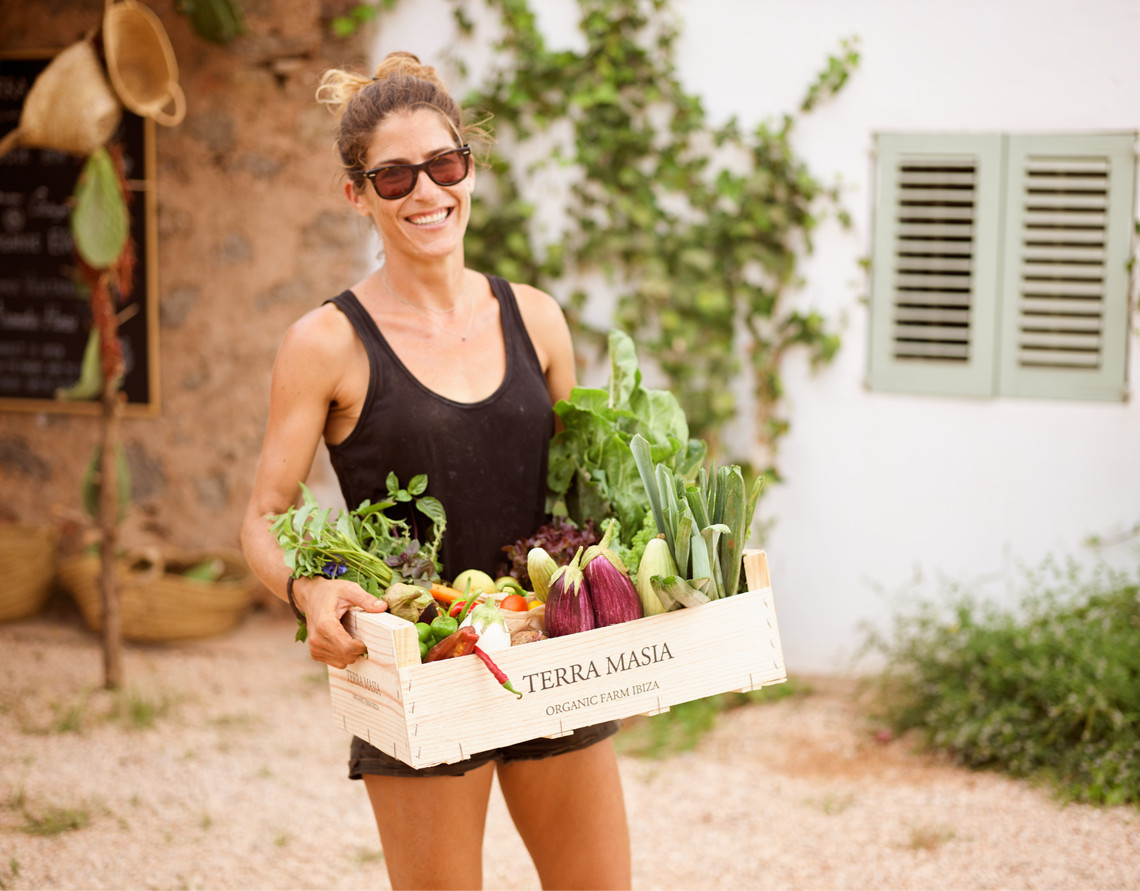 The farmhouse also offers a space for children, where they can enjoy games and handicrafts. They can also learn first-hand about the diversity of animals, birds, and insects. They can collect eggs, feed the sheep and pigs, and learn about healthy habits.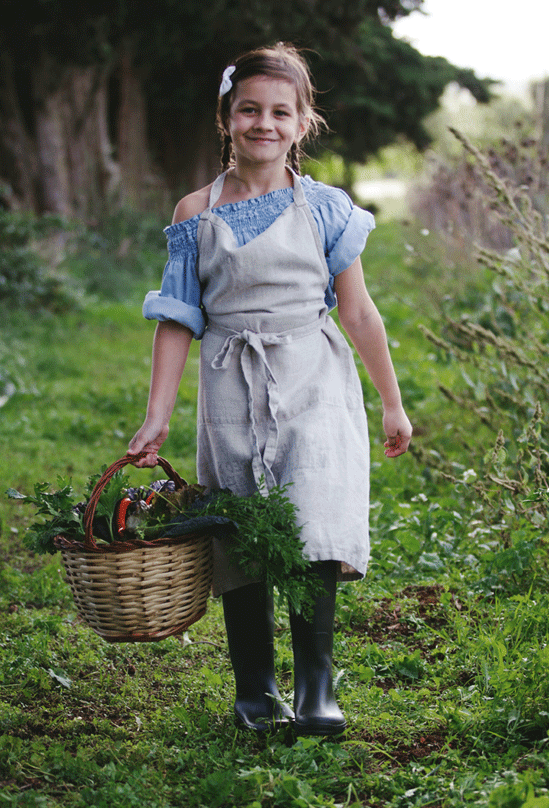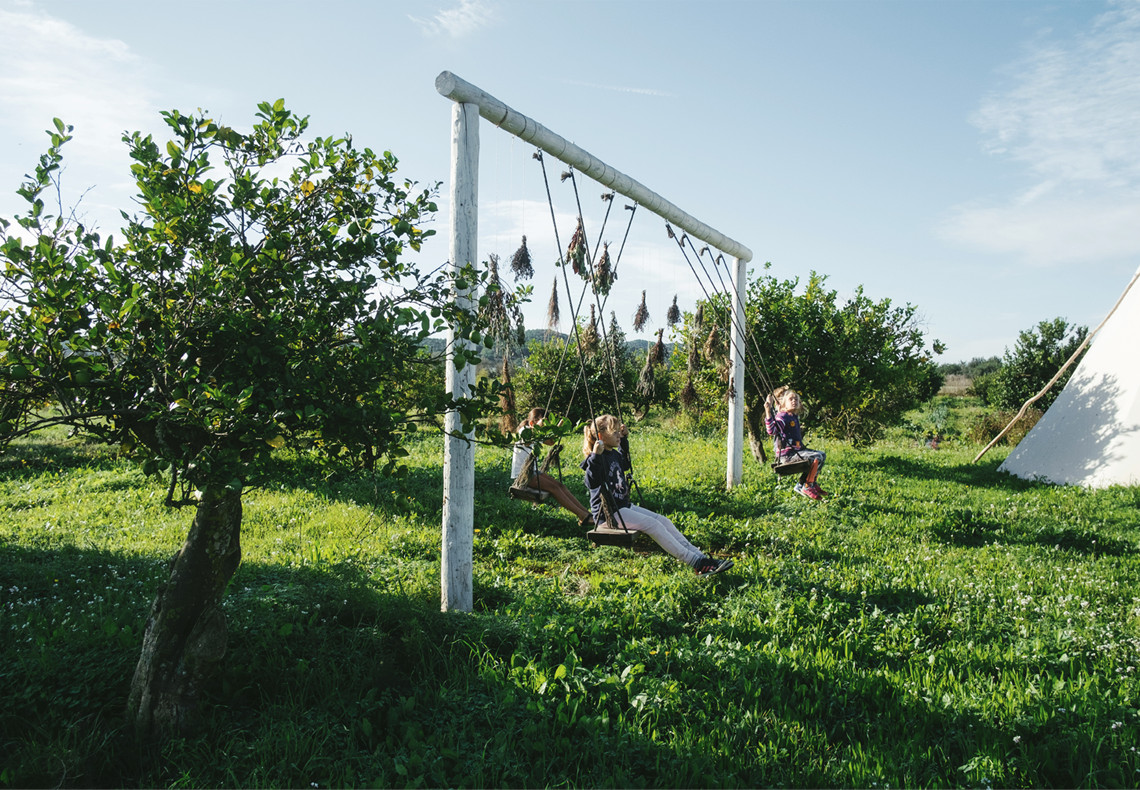 Terra Masia counts with a magnificent setting, its countryside. The panoramic views of the stunning Ibizan countryside, its discreet and peaceful location invite you to relax and enjoy the simple and natural beauty.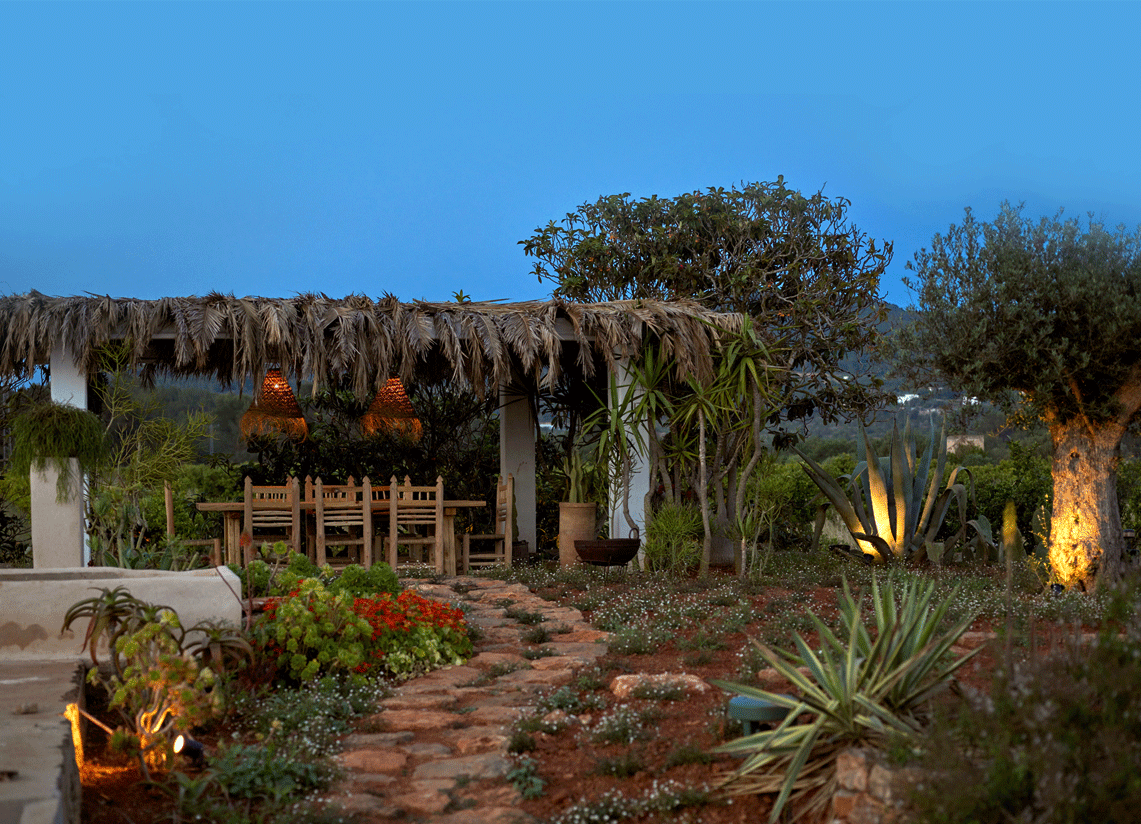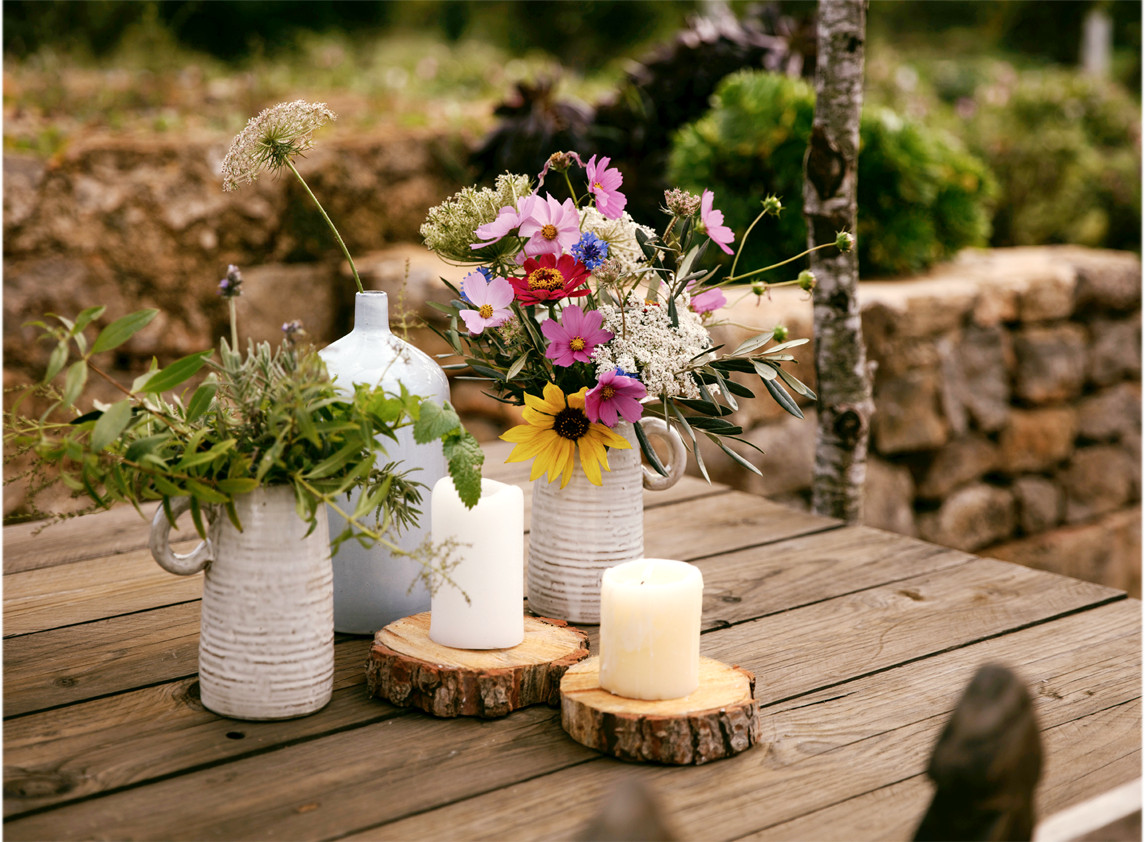 Its austere decoration is based on rustic elegance with Mediterranean touches, where the vegetal fibres and noble materials such as stone and wood are the protagonists. The house, a typical farm building, stands out for its traditional construction and the use of stone, clay, and wood. There are only a few elements, and they are well-chosen for an enjoyment that looks to the outdoors. Leaf and wicker awnings for the day, candles, and garlands of lights to illuminate the evenings. Benches and tables in natural wood and a corner with an Arabic touch, where textiles and side tables stand out, provide everything you need to enjoy the moment.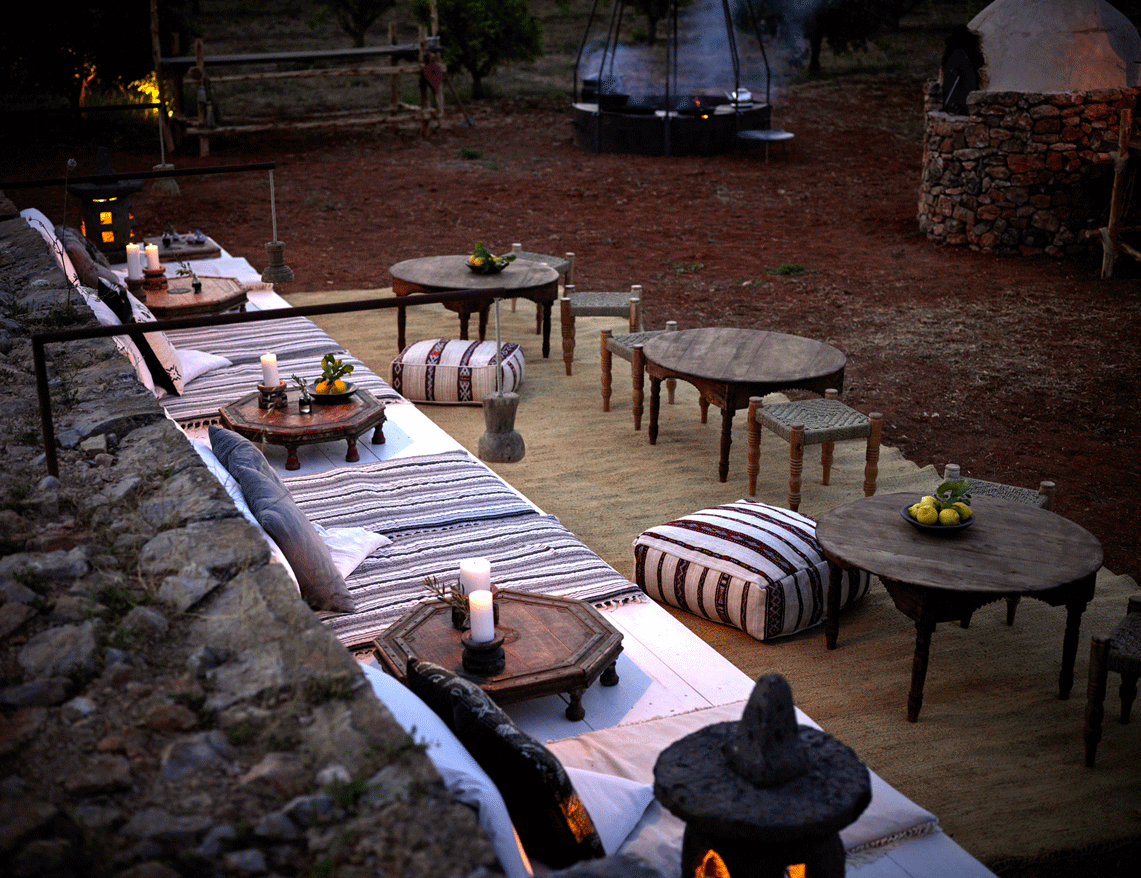 All the photos in this publication have been viewed on the Terra Masia website, www.terramasiaibiza.com
Tierra Masia, nature as origin and aim. Do you want to bring this life philosophy to your home? Below you can find some of our suggestions:
1. Antique wooden bowl Lasar, this handcrafted, one-piece natural wood bowl brings personality due to its authenticity and uniqueness. 2. Seaweed basket Agna, made of woven seaweed. It will help to keep your bedroom and living room tidy. Its handle will make it easy to handle and its handmade weaving will give your home a rustic touch. 3. Tall vase and low vase Possoz, both create a beautiful composition. Manufactured in ceramic and with a two-tone glaze finish, they create a chromatic contrast with a rural touch, highlighted by the simplicity of their shapes. 4. Cotton cushion Tasha, the striped designs, available in different colours, dress up your spaces in a subtle and cosy way. 5. Pendant lamp Bob, raffia and its irregular design reminds us of farm sacks and reminds us of natural environments. 6. Mango side table Nunes, handcrafted from a tree trunk, its natural essence and organic lines bring the charm of a forest to your bedroom, living room or reading corner. 7. Terracotta vase Orión, its finish and size bring personality, you can add some flowers or even use it as an original umbrella stand.