We have always stated our preference for a house decoration that approaches to a real world. Spaces where the imperfection of daily life becomes a subtle beauty that always fascinates us. In Ofelia Home & Decor we firmly believe home decoration has greater importance than it is usually thought, because through it we can reaffirm our own personality and express it as we like, making every corner and every detail closer to ourselves.
Remember that your home is capable of conveying emotions to you and others. This strengthens the importance of those decorative accessories we are going use, which must be chosen with care and attention. In Ofelia, we offer you a great catalogue of household items that will help you to complete your house design and to create a space where warmth, beauty and comfort reign.
Places full of personality like El Limonar from El Sol Group. A house that abounds in creativity and where you can find decorative accessories belonging to our brand Ofelia Home & Decor, these become the extension of its own essence. Through this home, we invite you to discover a decoration that adds warmth, texture, delicacy and a special charm. Today we enter this cosy dwelling place in order to show you how you can achieve a perfect harmony with small decorative details.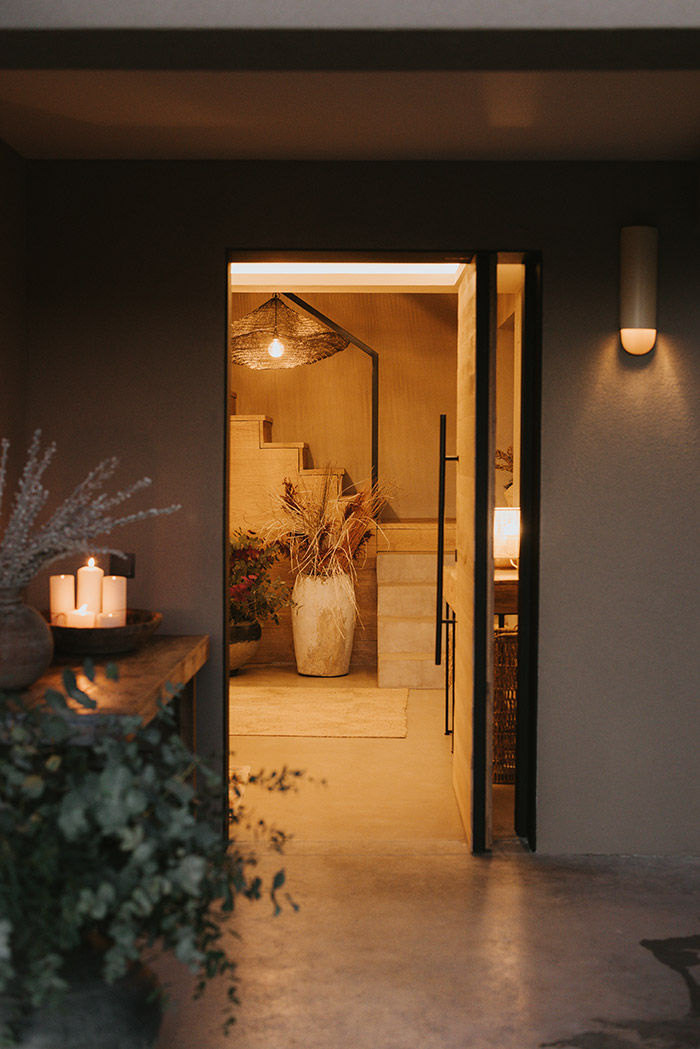 A home must convey warmth, comfort, tranquillity and purity from the threshold of the door. The entrance is one of those places that deserve all our attention when they are decorated. Vases that connect us with the greatness of nature, some candles that help to create a suggestive illumination... House entrance decoration defines how we want this space to welcome us every day.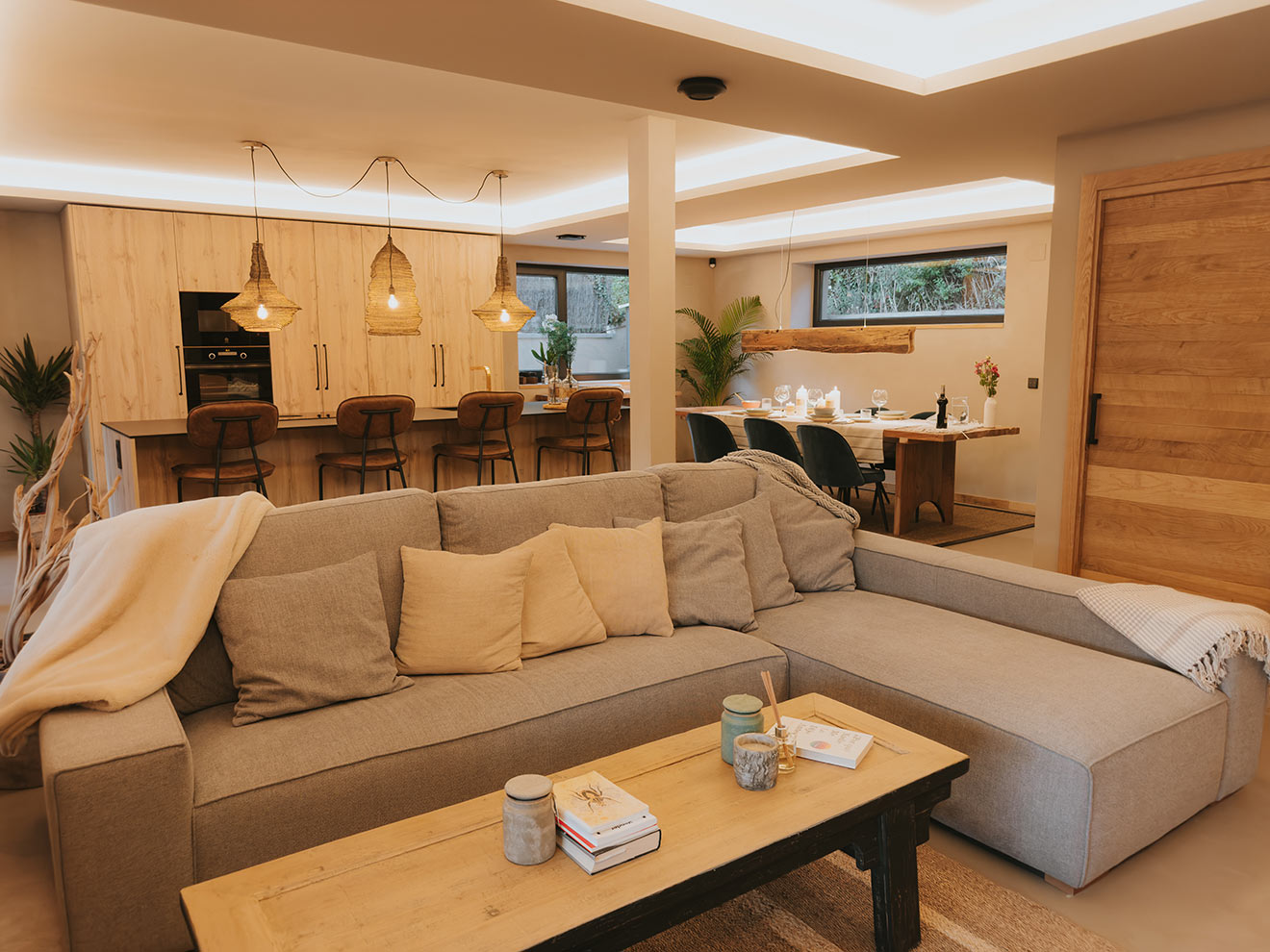 The dining room is the meeting point with ours. Conversations, laughter, silences, memories... In our house dining room, we live great and small events, for this reason in its decoration nothing must be left to chance. Here, decorative accessories join to the natural atmosphere that advocates for warm minimalism.
Along with a lighting that plays with contrasts, the atmosphere becomes more pleasant thanks to a more natural style. So, we can achieve a dining room that invites to be enjoyed... Tablecloths and tableware we are going to use are also part of the decoration, thus they may be the final touch in a meal with friends. Do not forget our beautiful candlesticks, you will bring an elegance and a singularity everybody will love.
On the sofa a cotton blanket, on the table some scented candles of our brand and in a beautiful corner some preserved flowers... Make your living room your best refuge.
In a house, bedrooms must invite to relax and the best way to achieve it is through neutral colours. In these spaces a jute or cotton rug cannot be missing, because plant fibres preserve a sustainable look we find in the newest décor trends, and also in our own brand philosophy. Furniture pieces, only the essential and those that give us utility. And decoration? Pieces that convey calm, warmth and a sensation of closeness...
The bathroom is another space in a house we can highlight with some decorative tips. Wall lamps significantly improve its look, large mirrors and a basket for clean towels. If you want to achieve the style of El Limonar, do not forget that all the parts in a house deserve our special attention.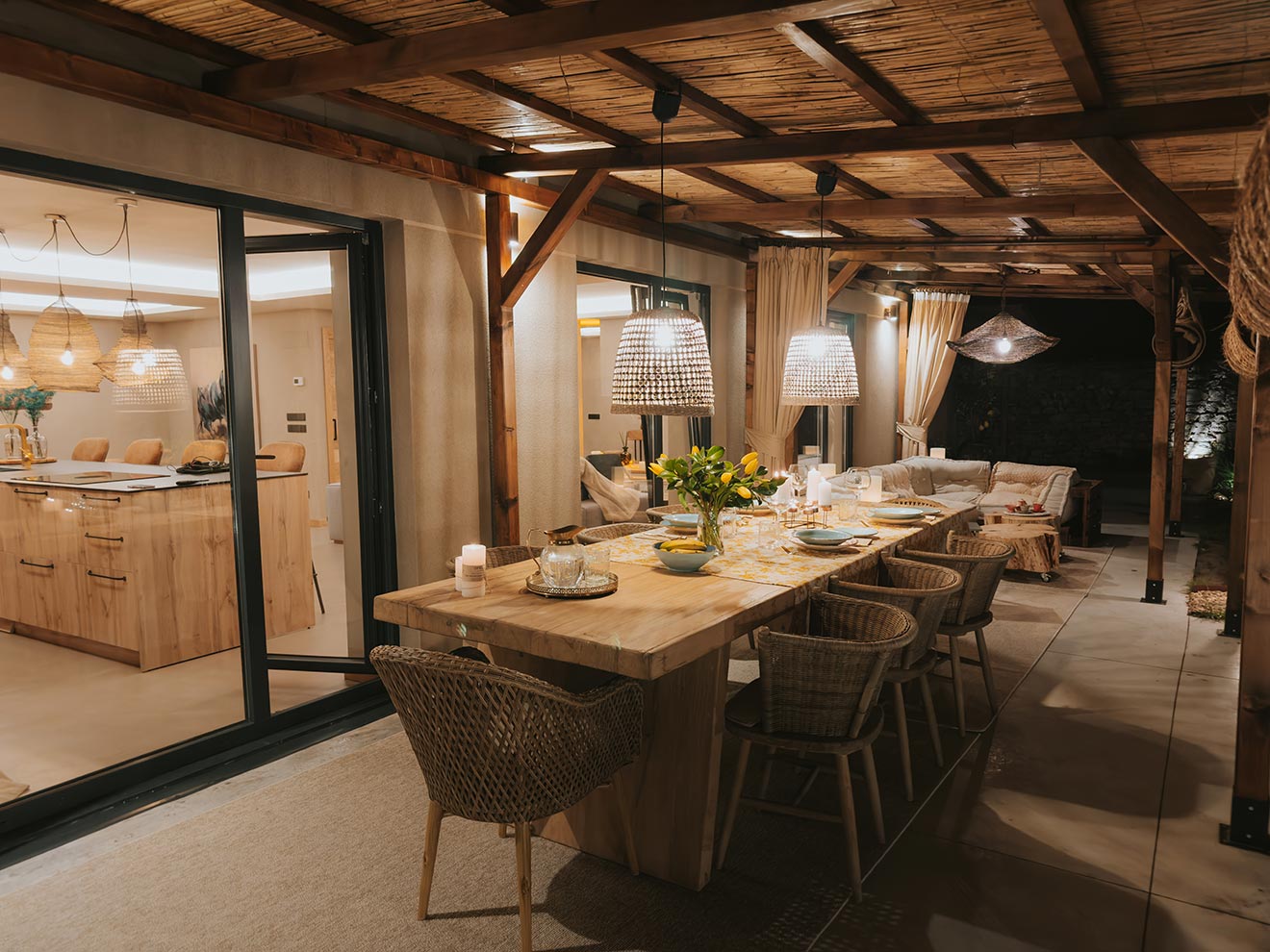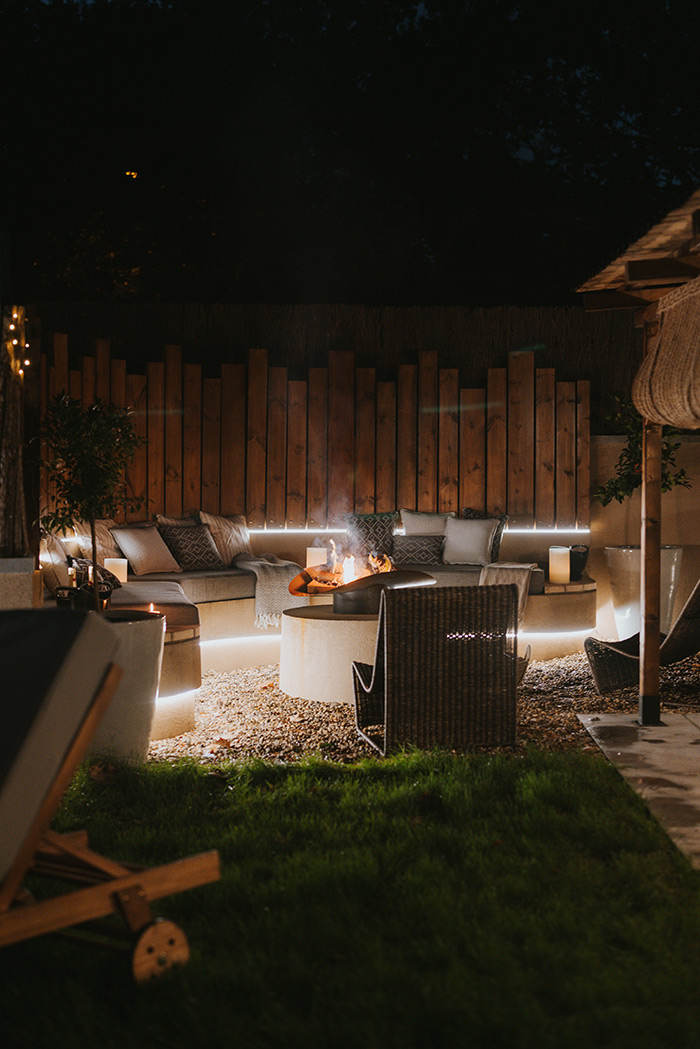 When we talk about houses, the true is that there is nothing as pleasant as having one with outdoor areas, isn't there? Outdoor decoration may be a wonderful experience. In Ofelia Home & Decor we encourage you to do it with decorative accessories as unique as those you will see in the images of El Limonar.
Ceiling lamps made of seaweed above a wooden table. A very natural style to complete this beautiful porch, a fully cosy atmosphere for family meals. Here you can also choose vases, flower pots or decorative bottles that with their finishes suit with our style. Oh, and of course, candles and flowers... they must be never lacking.