The feeling of coming home after a long working day is simply wonderful. Our home should convey calm, serenity and harmony. Comfort and well-being are essential at home, and furniture plays a fundamental role in this. Cupboards and shelves to keep everything organised, homogeneous and appropriate lighting for each room and, of course, comfortable seating to help us enjoy our daily moments. I like to have different types of seating, because this combination, which can sometimes be challenging, is what makes the interior design dynamic and makes it special and unique.
The sofa and armchairs in the living room are perhaps the first things that come to mind when we want to be comfortable. This is the room where we receive our friends and where we spend more time with the family sharing experiences, remembering a trip or enjoying a film. Therefore, a four-seater sofa is ideal for its spaciousness, although depending on the size of your living room, you can opt for a smaller one and complete the space with an individual armchair. And what is the best fabric? Well, there is a wide variety of upholstery, but the latest trend is linen fabric. It is ecological, resistant, breathable and has a natural and slightly wrinkled look that adds a lot of charm.
Cushions are essential, especially on the sofa, and you should always have a plaid or a cotton blanket nearby, you never know when you need to tuck yourself in and the feeling of warmth that this accessory conveys when you leave it at sight.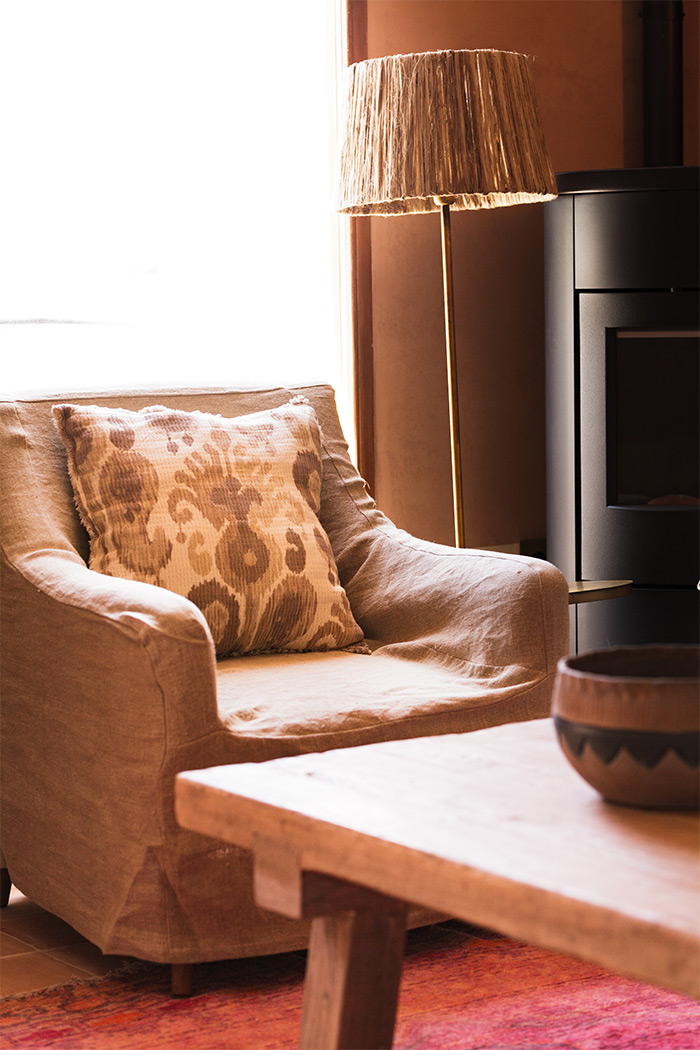 The dining area is where you can best play with the diversity of seating. You can combine some chairs with a bench at a rectangular table, for example. Even if they are not from the same collection, or are made of different materials, it is best to use designs that complement each other. Natural rattan chairs and a wooden bench blend in beautifully and add flexibility. Sometimes, I like to go off the conventional, and in my dining seating I like to give way to a bit of eclecticism.
Sometimes we need some extra seating in the corner of the table... Well, a low stool can be the most practical solution. It takes up little space, but it solves the problem. Wooden stools are very stable and if they are upholstered, they can be really comfortable. The best thing? When you don't use them, they are easy to store, or you can leave them in a corner.
I love personal and unique spaces, and this kind of variety in the seating at home is a very successful way to achieve this.
You can also have a seat in the bedroom to relax with style and with no need to lie down in bed. An armchair is the perfect piece for this type of space. With a slightly inclined design, generous cushions and clean lines, it would be enough to give a decorative plus to your bedroom, and extra comfort to your day-to-day life.
It can be your favourite reading corner, the place where you put your bed cushions before going to bed or even your clothes ready for the next day... I love to sit in the armchair in my bedroom while I put on my shoes before going out to work. It's hard to believe, but it's a couple of minutes that comfort me and encourage me to start the new day with more energy. Also, if you have a window with a good view, don't hesitate, put the seat so that you can enjoy it whenever you feel like it.
The important thing is that your home meets your needs and that each room has the elements that make your life easier, but always with the best style, of course. Sofas, armchairs, chairs, benches, stools... When it comes to comfort and well-being, seating is the key.