I suppose it is a common feeling, but I have never been so excited about the arrival of good weather. At last, the sun is shining, and the warm temperatures invite to live more outdoors than indoors. A few days ago, I told you about how you can get your terrace ready for this spring. Mine is almost ready. You can't imagine how I have taken advantage of it!
And, as every year, it is time to take care of our plants to successfully complete the decoration. Pruning, fertilizing, changing the substrate… An old jumper, some tools and a lot of motivation. Gardening gives me moments of peace and gives a break to my adult and responsible part. If you are like me, make a pact with yourself and try it, its benefits are multiple.
As important as plants and flowers, pots will provide a new look to your terrace or balcony. Choose easy plants! Some of them flourish abundantly in exchange for little or very little care. I'm a fan of succulents. Beautiful and almost eternal, they are the most suitable if you have little time to take care of them, since they only need light and a little water.
I love white flowers. Above all, if they are grown in small flowerpots, they are perfect to enjoy their beauty outside or inside the house. The peace lily is a very grateful plant that does not need sun and brings good luck and prosperity. For this reason, do not miss one in your hall! It will welcome you upon arrival and bid you farewell when you leave. Its elegant and stylized green leaves will look great in a clay pot with a rustic finish.
I don't know about you, but I like to run away from the hodgepodge of colours, textures, materials... that produce a visually saturated and confusing environment. I prefer to seek harmony among the elements I choose, which is why I have created the Zante and Creta collections. Beautiful cement pots in earth tones that transmit the Mediterranean calm and passion for craftsmanship. Porous texture, irregular finish, embossed edge... They are perfect to highlight the colour of your favourite plants and flowers.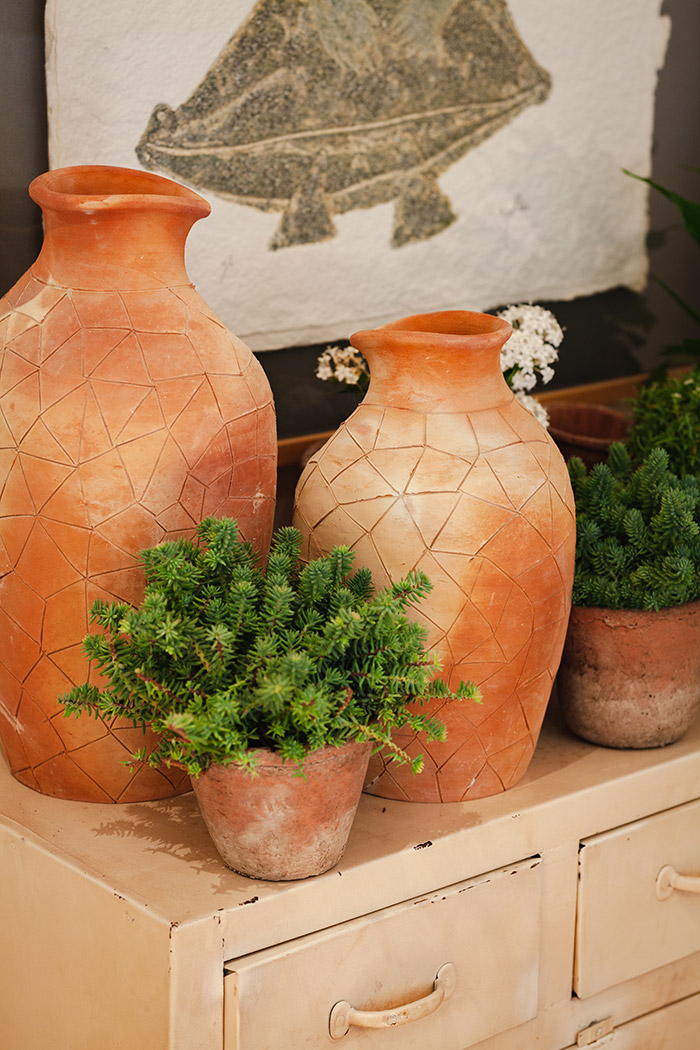 Any element of nature has a green light in my house. Etna is a painted black plant pot with geometric motifs. With it you can grow aromatic herbs in the kitchen: basil, rosemary, thyme, oregano... and even outbreaks. Freshly picked will brighten up your salads and will be the ingredient that will improve any of your dishes. There are also medicinal plants such as Aloe vera and species that withstand temperature changes well. I have even managed to have a small avocado plant at times.
I can't conceive of a home without plants. Green touches here and there... Joy, verbena, ivy... Hanging plants are natural ornamental details that help lift your spirits and decorate! I like to accompany them with special planters.
The Soleil and Thierry hanging planters will add style to the elegance with which the leaves fall from above. Their exoticism combines with the naturalness of his materials. They are made with seaweed and have been braided by hand. If you place them in groups and at different levels, any corner of your house will be a real orchard.
Karin, Svan, Mariel, Anne and Nicol. Tall planters seem to me a great idea to decorate with plants inside and outside the house. In mine you can find stand planters by the window, concealing nooks and corners, even on the landing of the stairs. I used to put some plant pots on a stool because I like to place them in unusual containers. Don't be surprised if you come and see one in a paper sack on a shelf.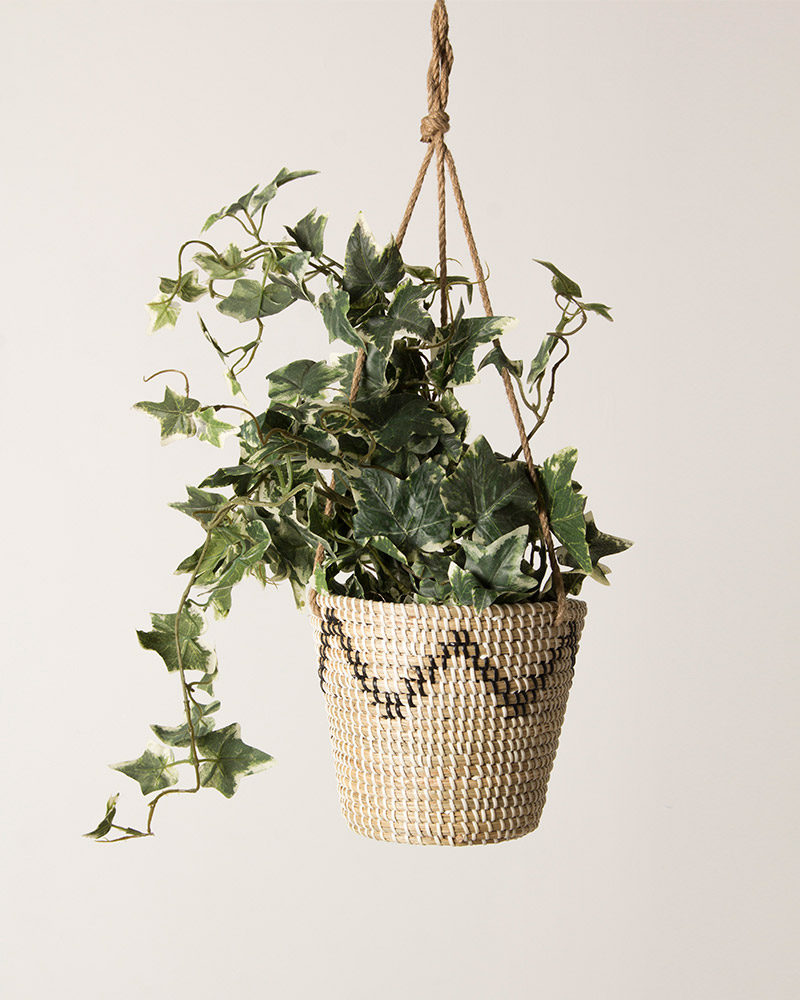 Baskets are another alternative to display plants or to camouflage deteriorated pots. Mine last so long that some of them has suffered one of those Pinterest do-it-yourself. You can also repaint, line with rope or use a super tip to protect and preserve the pots.
It seems incredible, but with a few plants any room can change completely. The house looks like another! Forget about the division between interior and exterior. These pieces change places! And they decorate terraces, balconies, patios or attics as well as interiors indistinctly.